The Covid-19 pandemic has confined us to houses and apartments. While the former was relieved by gardens, the only form of being outdoors for residents of blocks of flats became their balconies.
Balconies turned out to be not only an economic space, e.g. serving as a drying room for clothes on warm days, but also the only available zone of relaxation outdoors. And while – like everyone else! – we hope that the global outbreak situation will normalize this year, we are aware that balconies will stay with us longer than the virus. So why not arrange them so that instead of the last resort, they become an interesting alternative to a trip to the forest or the park?
>> See also: Balcony metamorphosis before the season
Here are some simple decorations that will turn your balcony into an atmospheric space to relax!
Willows rustle…?
For owners of small balconies with ribbed railings with a clear conscience we recommend styling with a wicker mat, woven between the metal posts. This decoration will slightly reduce visibility on the balcony, but will increase the comfort of its use for people who previously felt exposed to the prying eyes of passersby or neighbors.
Apart from the mat you can line your balcony with dark wooden panels, hang decorations made of wood slices on the walls and put cream cushions with macramé covers on the balcony furniture (preferably also plaited, but bamboo or even plastic, imitating wood, will work just as well). Balcony in boho style is ready!
To liven up the space, some of the furniture can be replaced by pots with soaring trees and shrubs, such as whole-leaf willow (the "Hakuro Nishiki" variety is specially bred for balconies), but then we have to reckon with year-round responsibility – unlike wicker, green plants are still alive!
Green to me!
If what you missed most during the lockdown were long walks in the forest or park, and you're not afraid of gardening, why not create a woodland nook on your balcony?
Invest in parquet or artificial grass in dark shades. Add dark brown or black pots and covers that look like bark or wicker. And finally, buy some trees. What kind of forest do you want to enter?
Mini thuyas, junipers, and spruces are great for a woodland feel, but you can also incorporate a pine or two. For a deciduous forest, on the other hand, the best alternatives will be mini birches (the "Youngii" variety is the one most often recommended), tulip trees, and mini mulberry and willow varieties. A mixed forest is a combination of different species from these two groups.
It is worth considering whether there will be allergy sufferers in the apartment, and adjust the species in such a way as to avoid pollination of allergens to which family members are allergic. If you don't decide on any trees with a weeping habit (that is, the aforementioned willows and birches), it is worth interweaving the terrace railing with wicker mats or planting common ivy on it, but be careful: it is a very expansive species, requiring constant control, otherwise there is a risk that the creepers will start to obstruct the cultivation of other plants
All the colors of the rainbow
And finally, why not turn your balcony into a colorful island in a sea of urban gray? A colourful environment has a positive effect on your mood – if it's decorated to your taste.
Hang flowerbeds with begonias or geraniums on the railings. Cover grey walls with colourful plaids or patchworks. Place cushions with colourful covers on brown, beige or white furniture and invest in a table cloth – but don't forget weights to prevent the wind from blowing it away! Weights now come in a variety of shapes and colors, so you can choose them to add another decorative touch.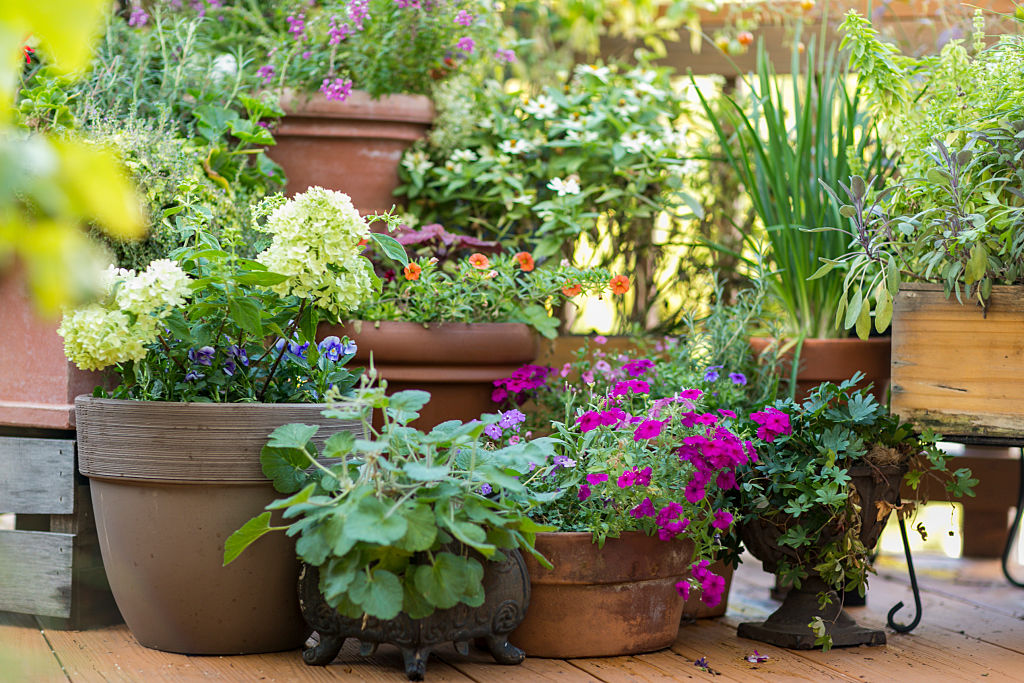 If you want, you can put beach chairs instead of furniture and cover the rails of your balcony with a screen. We don't recommend spreading sand – it will carry into the apartment – but in combination with light, wooden parquet floors it can still be an interesting substitute for a beach, especially on sunny days. In addition, much more private – no one will look over the screen on the fourth floor!