It is well known that the floor is one of the most important elements of interior finishing. Countless steps, which we make on its surface, require careful preparation of the covering and use of good materials. What to follow when replacing the floor with a new one? Here are a few rules, which are worth following.
First of all, assess the condition of your current floor
Getting down to replacing the floor can be a bit of a leap – remember that especially a wooden floor, for example made of oak, is extremely valuable. So it may turn out that a much better option is to renew it. Also, the simplest ways of renewing the cladding, such as using floor panels laid on top of the old surface, can only be used in certain situations. So the basic action is to assess the condition of the floor. It is necessary to check cavities, stability, evenness of the substrate and whether there are any traces of mould or mildew
The decision stage: new or old floor?
Making a decision is always quite difficult. On the one hand, we can save time and money if we decide to repair the old floor or even put a new layer of laminate or vinyl on it. On the other hand, this approach carries certain risks: we can never be sure that the old planks as a finishing or supporting layer will not be subject to further deterioration. What to choose? Unfortunately, this question must be answered by the investor himself. Of course, after studying the actual condition of the cladding and the opinion of professionals
Possible alternatives: what kind of flooring do you want in your home?
The situation in which we decide to replace the floor, however, presents us with a dilemma as to what new cladding to put down. The choices are:
floorboards – they are joined together using tongue and groove technology; the thickest ones are up to 26 mm. The advantage of this natural solution is its durability and great arrangement possibilities, as a floor made of boards fits practically into any interior design style;
layered floors – floors constructed of two or three layers, which are most often chosen for underfloor heating;
parquet – traditionally consists of small wooden strips joined with a tongue and groove system up to 22 mm thick; sometimes arranged in decorative patterns
resin floors – a very modern solution, where extremely durable floor is obtained from combination of epoxy or polyurethane resin with a filler and dyes
ceramic floors – resistant and heat-conducting tiles are ideal for underfloor heating. Floor made of them can serve for many years not only in kitchen or bathroom but sometimes they crack in case of impacts;
panel floors – we can choose laminated panels or more modern but more expensive claddings made of PVC plastic (vinyl panels). The disadvantage of the latter is that the surface under them must be perfectly even. The advantage of PVC panels in particular is that they are completely waterproof and easy to lay.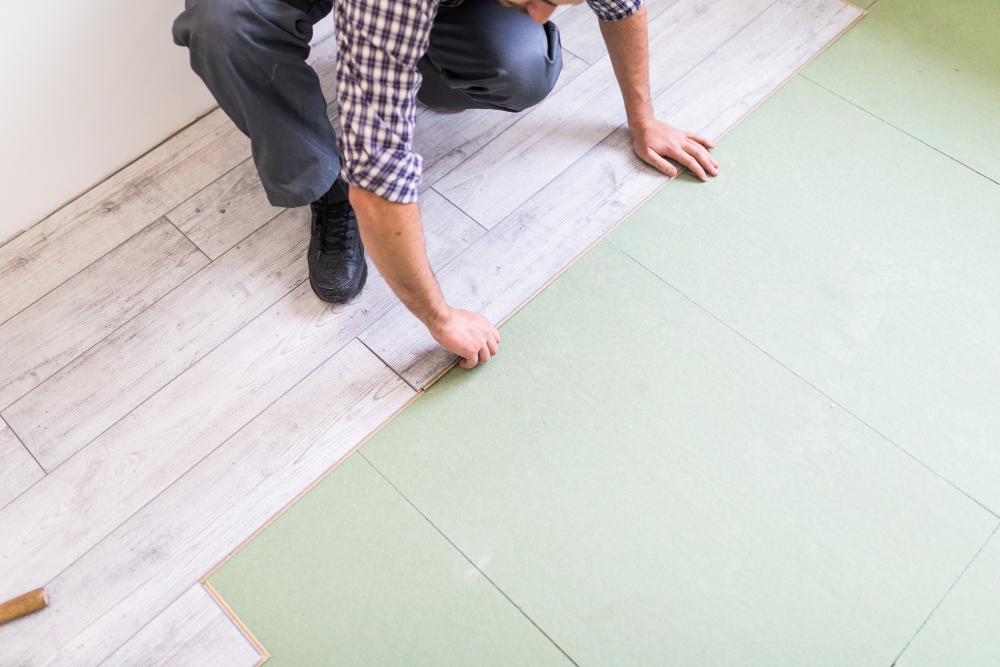 Flooring on the ground and its layers
No matter what type of new flooring you choose, you should take care of what's underneath. Its functionality and advantages are determined by all layers, not only the top one
Layers of the floor on the ground
What structure should the floor on the ground have? Here are consecutive layers, starting from the bottom:
native soil,
compacted sand layer,
lean concrete,
a layer of foil,
polystyrene foam,
second layer of foil,
cement screed,
surface cladding (e.g. parquet, panels, etc.).
Floor on joists
A floor laid on the ground, especially in the case of boards, may also rest on joists. It is then worth taking care not only of even levelling of the joists themselves, but also felt pads under them and a layer of mineral wool with soundproofing effect. Moisture insulation is also necessary
>> See also: Stoneware imitating wood – a practical and elegant floor finish
Insulation and soundproofing
The most important issues we need to take care of before installing the final floor cladding are thermal and acoustic insulation. They have a direct impact on energy savings and the functionality of the room. Without insulation we will be condemned to high bills connected with heating. Cold floor also means lower comfort of using the room. Acoustic insulation, on the other hand, is essential so that you can walk on the floor without an unpleasant rumbling sound.
What else is worth remembering?
Replacing a floor means finally giving a lot of thought to a new interior design, which should start with choosing an interesting covering. Apart from parameters of particular materials, we should also pay attention to their design. People, who often change their interior décor, should rather bet on universal wood in the form of planks or parquet strips. It will be easier to create new arrangements with them. However, remember that it is much easier to repaint the walls or buy a new sofa than lay a new floor. So let it be well thought out and serve for many years.