Kitchen open to the living room is a popular solution, especially in small apartments. Its proper arrangement will allow you to hide the unwanted flaws of the room, using several interesting tricks.
Kitchen open to the living room – advantages
It is commonly believed that the best conversations always take place in the kitchen. This is especially true for all kinds of parties or meetings. In addition, it allows you to keep in touch with your guests or household members while preparing meals. There's nothing better than good company and even better food.
An open kitchen has not only social, but also spatial advantages. Using such a solution allows you to optically enlarge the space. This will be further emphasized if light or pastel colors are chosen in the arrangement
An open kitchen is also a comfort, when we want to move our dish right into the living room, where hungry household members or friends are waiting. This allows you to feel like a real master or mistress of the house even in a small apartment.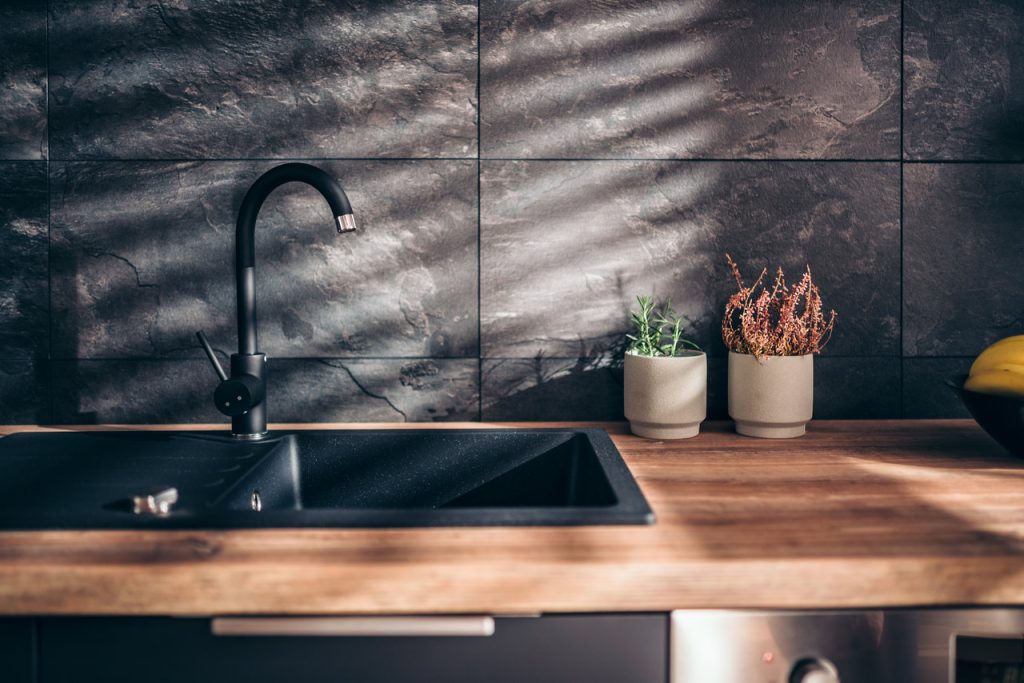 The main drawback of such a solution may be ventilation. Therefore, you should first of all invest in an efficient hood with an extractor, in order to avoid unpleasant smells throughout the house. It is also mandatory to periodically ventilate.
What to hide in an open kitchen?
In every domestic space, there's something we want to conceal. In the case of an open kitchen, a trick that allows for its ergonomic arrangement is to opt for built-in appliances. This will allow the fridge, dishwasher and other equipment not to be so conspicuous. It will also highlight the design of stylish or more classic cabinet fronts, depending on your taste
If your sink is bursting at the seams with dishes after a long cookout and dinner is over, covering it with a cabinet or countertop will draw attention away from what's unwanted. Especially if the kitchen is separated from the side by a partition wall. This is the best way to hide many unwanted drawbacks
It is estimated that the basic partition wall should be about 110 to 120 cm long, and its height should be determined by the height of the countertop. In the standard it has no more than 80 to 90 cm. What is more, you should know that the partition wall should protrude about 30 cm above the countertop, this will allow you to hide many elements and tools placed in the kitchen, such as a wine rack, if you do not want to appear as excessive lovers of this drink
The partition wall has an additional use, namely aesthetic and functional value. Not only can we arrange it as we wish, for example by lining it with wall tiles, but also install the necessary sockets. Experts also advise that when dividing the space between an open kitchen and a living room in such a way, a dining table should be placed by the wall on the living side. This will also allow for an interesting arrangement of space, diverting the eye from the equipment.
Kitchen island – a clever and functional solution
The kitchen island is a great and very ingenious solution that allows you to maintain the aesthetics of the interior, comfort of use, and cleverly conceal what we do not want to highlight. First of all, it is very functional. It will perfectly hide many kitchen tools, and in addition it can be used as another worktop, table or a zone for real culinary show-offs. On the island you can put an induction plate or place decorative objects such as flowers, figurines, cookbooks, jars of spices or other gadgets. The possibilities are many, it all depends on your own idea
>> See also: 5 ideas for arranging a small and narrow bathroom
Clutter, no matter how we arrange an open kitchen and what tricks we use to mask it, will still be visible. That's why it's worth not only developing the habit of tidying up after cooking, but also thinking about equipping the kitchen with clever storage, cabinets, hangers, racks and other solutions to help keep the room tidy. This will not only avoid a lack of neatness in the kitchen, but also allow it to compose with the living room, through proper arrangement.