Even a small balcony in a block of flats can be very easily turned into a summer oasis of calm. It's a great way to create a cozy nook where you can enjoy a cup of coffee in the morning or sit with your favorite book on a warm summer evening. Here's an example of a quick and inexpensive makeover that may inspire you to arrange your own balcony. See how our balcony looked before and after!
A good plan is essential
We laid a modular patio floor on our balcony last season. At the end of April I invited my husband on a date to the garden market, and since the pandemic was not going to make it to May, we decided to use this time like a typical, statistical Pole, that is, to renovate our balcony and create a place where we will enjoy spending every free moment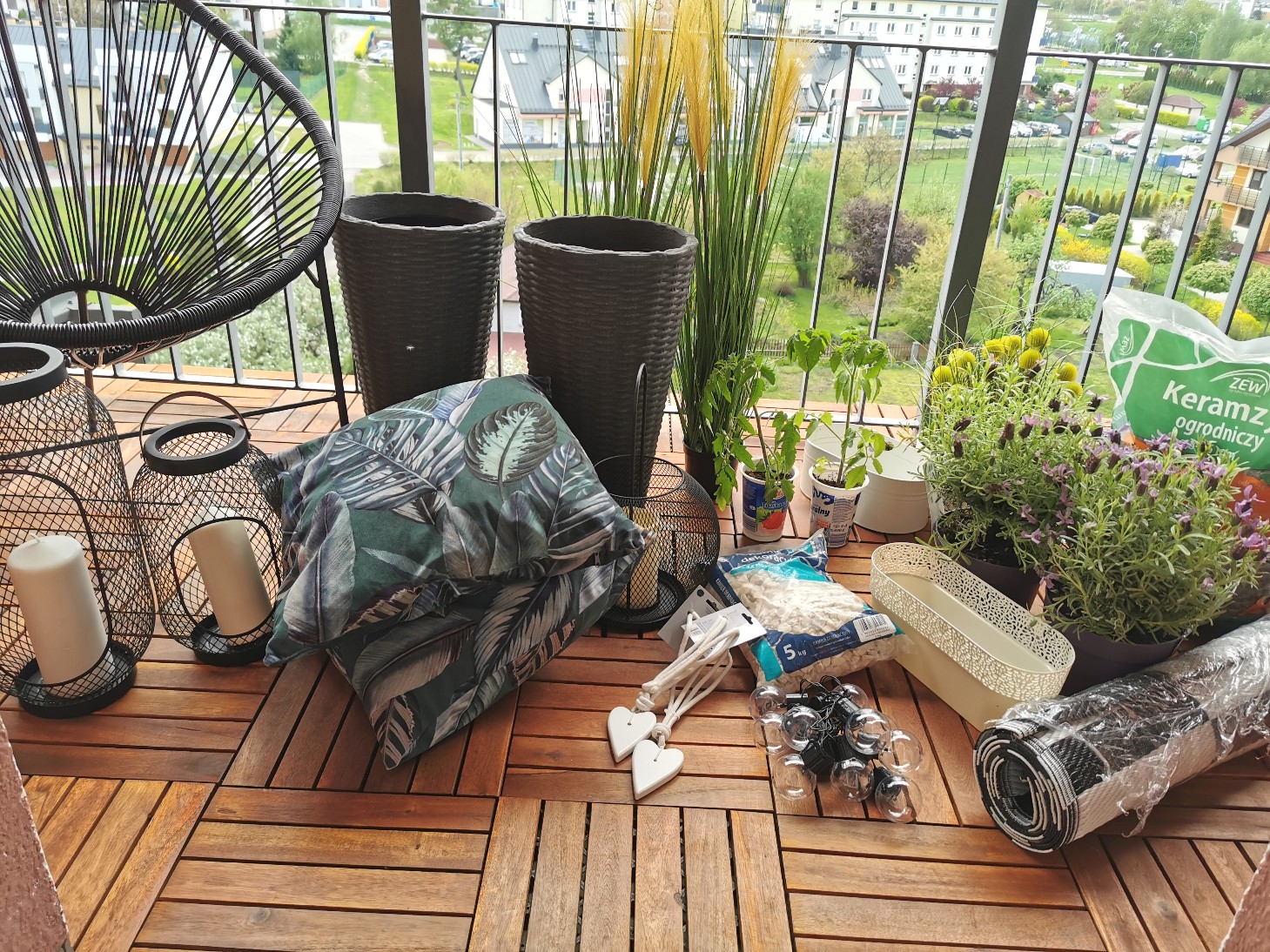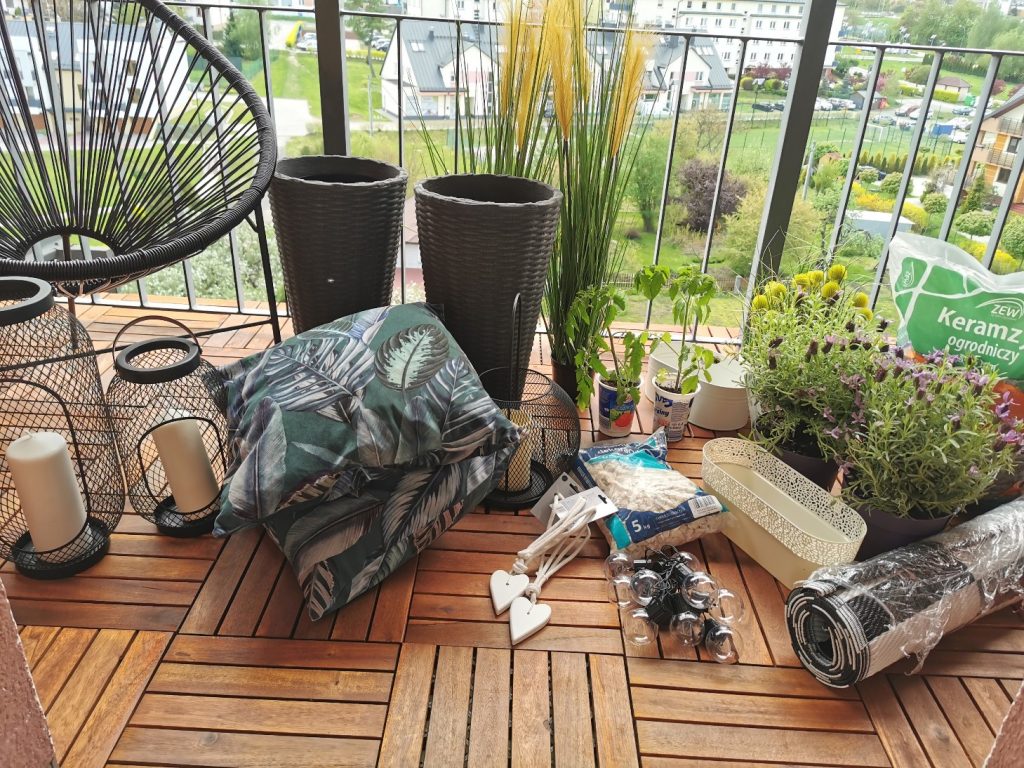 We started the arrangement plan by choosing materials and colors which will appear on the balcony. It is important to treat this place as another room and arrange it so that it relates to the style that prevails in the apartment. First of all, we wanted to create a relaxation area where you can sit comfortably surrounded by greenery and flowers
First of all, the floor
After an exceptionally cold and snowy winter this year, our terrace platform needed renovating. During the purchase, we considered the choice between a modular wood floor and a composite platform. In the end, we opted for a wood platform because we wanted a natural-looking floor finish. Of course, choosing wood means regular maintenance. In the case of our small balcony, it was enough to roughen the peeling elements with a polishing sponge and apply one coat of wood preservative oil. We chose the color of the impregnant close to the original color of the board. After 24 hours, which the impregnator needed to dry, I could move on to planting the plants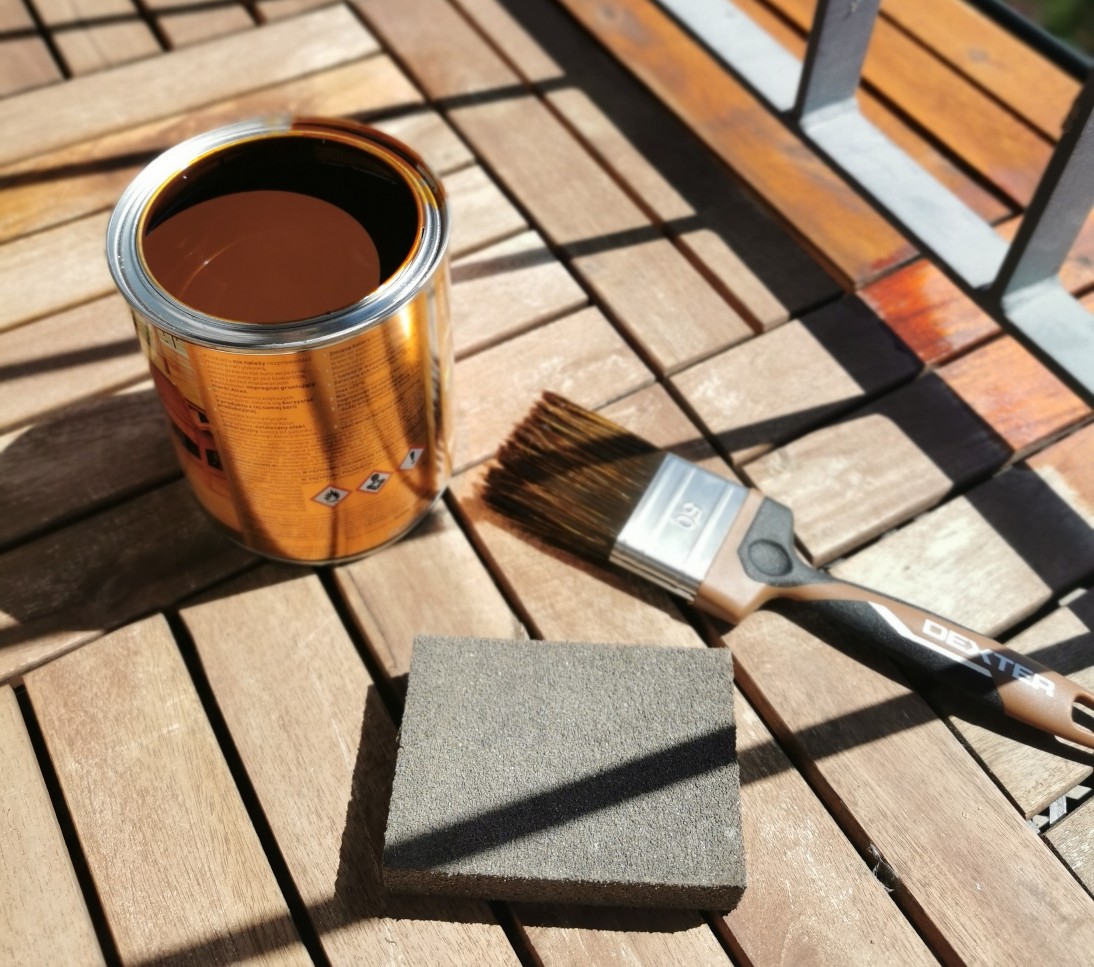 Plants on the balcony
Due to the fact that our balcony is situated on the south side and only partly roofed, and the sun shines here for most of the day, growing plants is quite difficult. I decided to put decorative grasses in tall pots and plant lavender, which likes sunny places provided it is watered regularly. It's worth knowing that the smell of lavender, which is beautiful for us, repels mosquitoes. This is certainly an additional advantage during evenings with a book on the balcony. Moreover, lavender is an undemanding plant, which if properly cared for, will delight us from April to September
>> See also: Balcony arrangements. 5 ways to shade the balcony
Two cherry tomato bushes also found their place on the balcony, which we received from a friendly hobby gardener. We are looking forward to the first fruits.
A place to rest
Creating a comfortable place to rest on the balcony, especially with a small area is not easy but possible, it's a matter of choosing the right furniture that will be comfortable and at the same time will not clutter the space. We chose black, metal furniture, which thanks to its openwork design seems light and perfectly suited to a small balcony. Moreover, they are extremely comfortable. It's the perfect combination of a garden chair and a deckchair that you don't want to get out of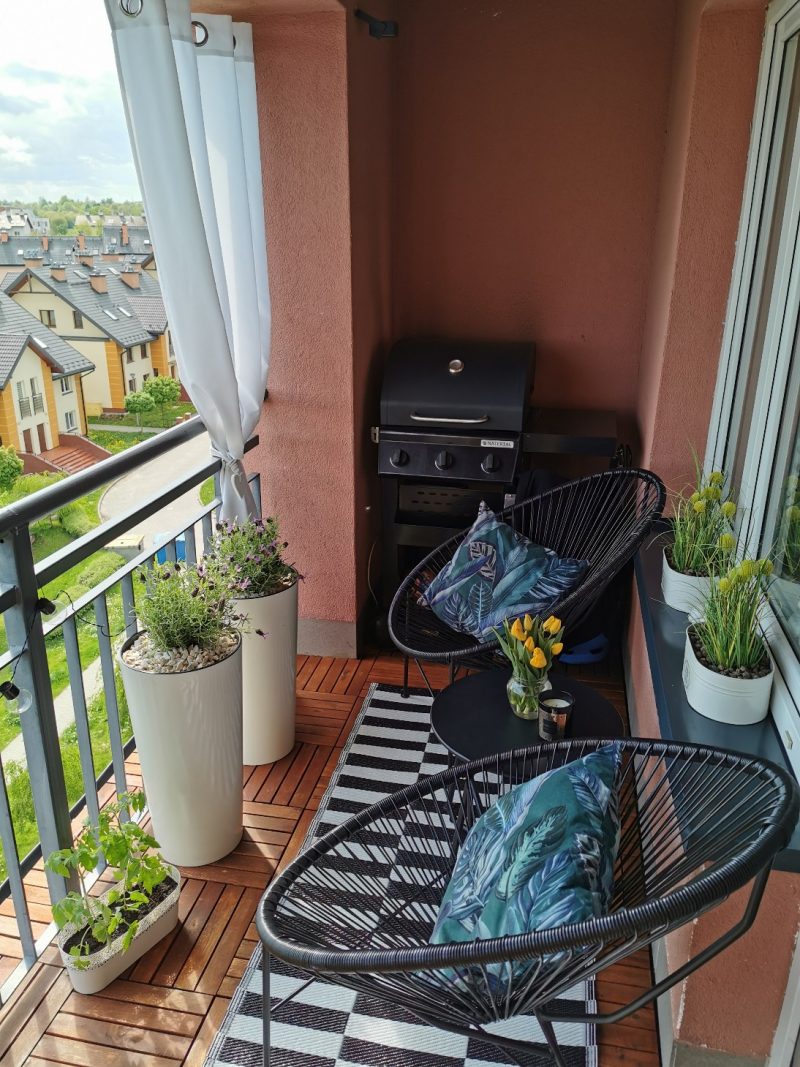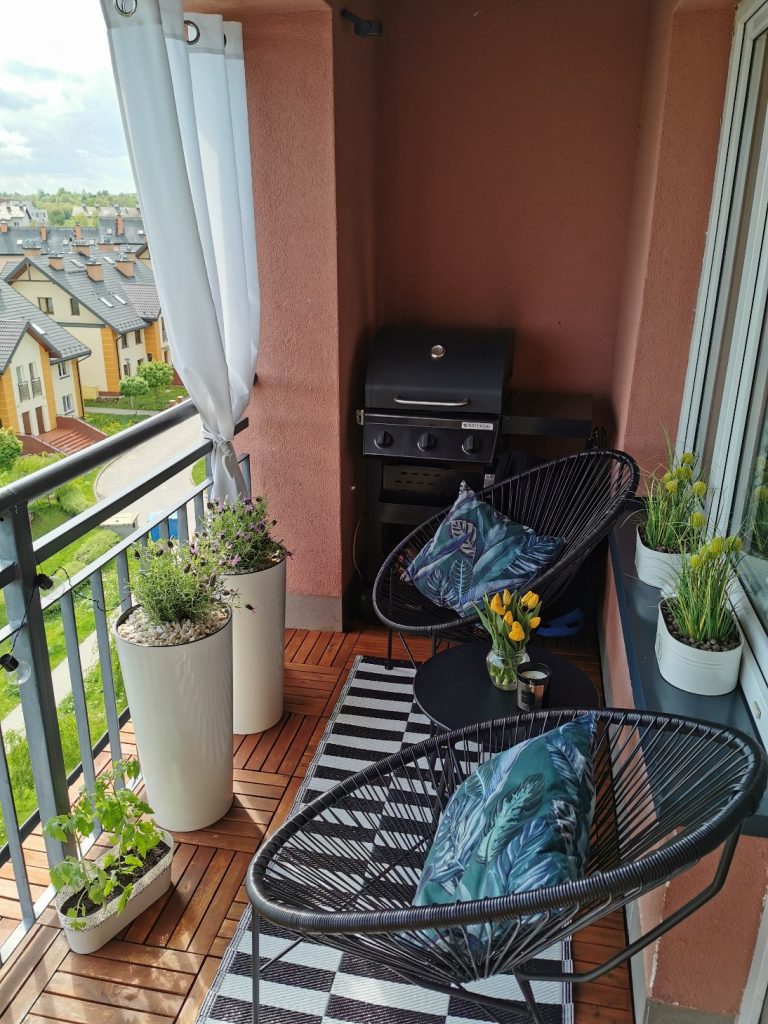 Decorations and details
This is definitely the most enjoyable moment of the balcony metamorphosis. Due to the small size and tall pots, which are already a decoration in themselves, I decided to use a few cozy details such as white polyester curtains, perfect for the balcony arrangement, cushions with leaves and outdoor carpet, in a color referring to the carpet from the living room. We wanted to achieve consistency between these two rooms. Thanks to the colors of the decorations and balcony furniture, we were able to achieve a smooth transition. As a result, the balcony is an extension of the living room, so we gained an additional, summer "room".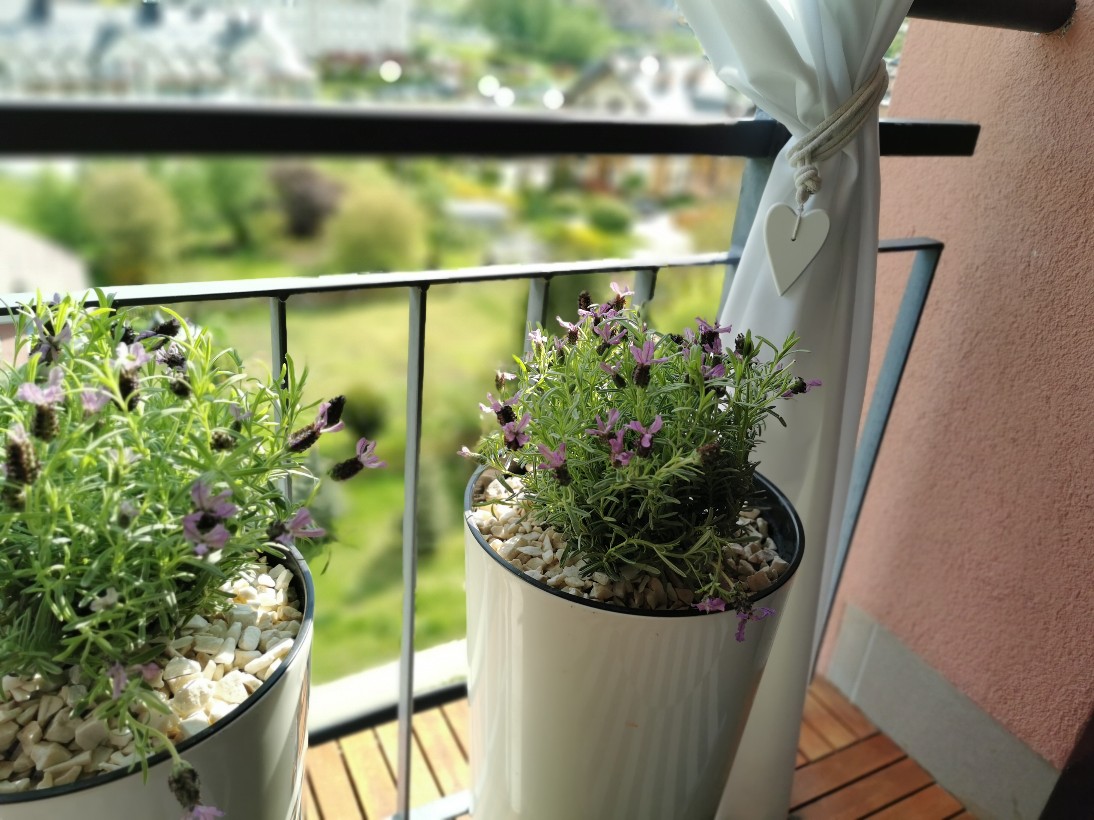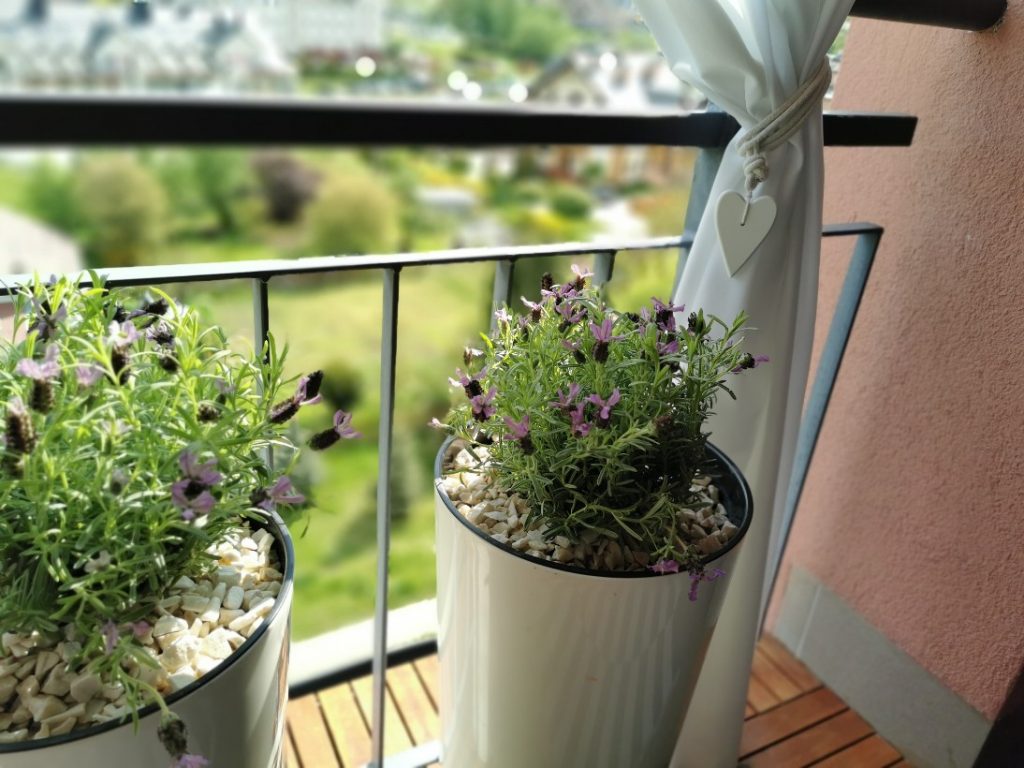 Balcony lighting
This is a very important issue, not only practical but above all decorative. Appropriate lighting of the balcony will make staying there especially in the evening will be pleasant and relaxing. To light the balcony I chose metal lanterns of different sizes, referring to the furniture and garland in the form of led bulbs that give an amazing effect after dark. In addition to decorative lighting, the balcony is also equipped with an outdoor lamp, which is perfect for evening barbecues or meetings with friends. And if someone, like me, loves candles, you can go crazy and put any number of candle holders on the windowsill and on the table. Nothing builds the mood like the glow of candles after dark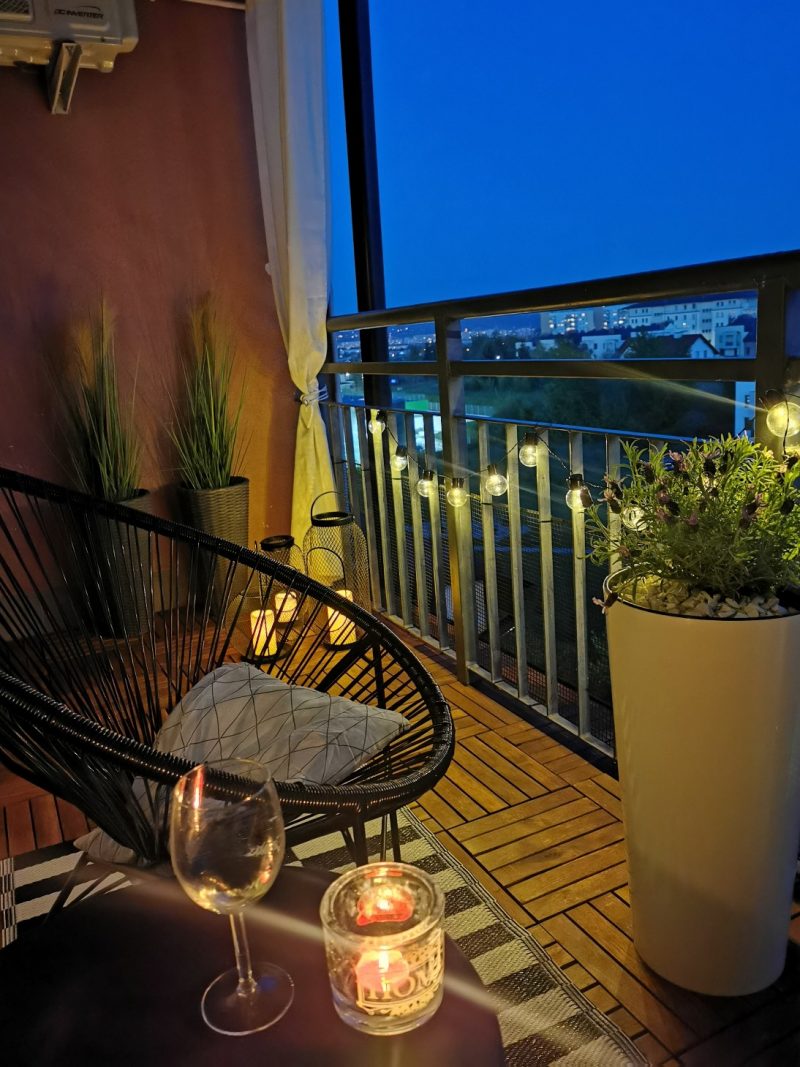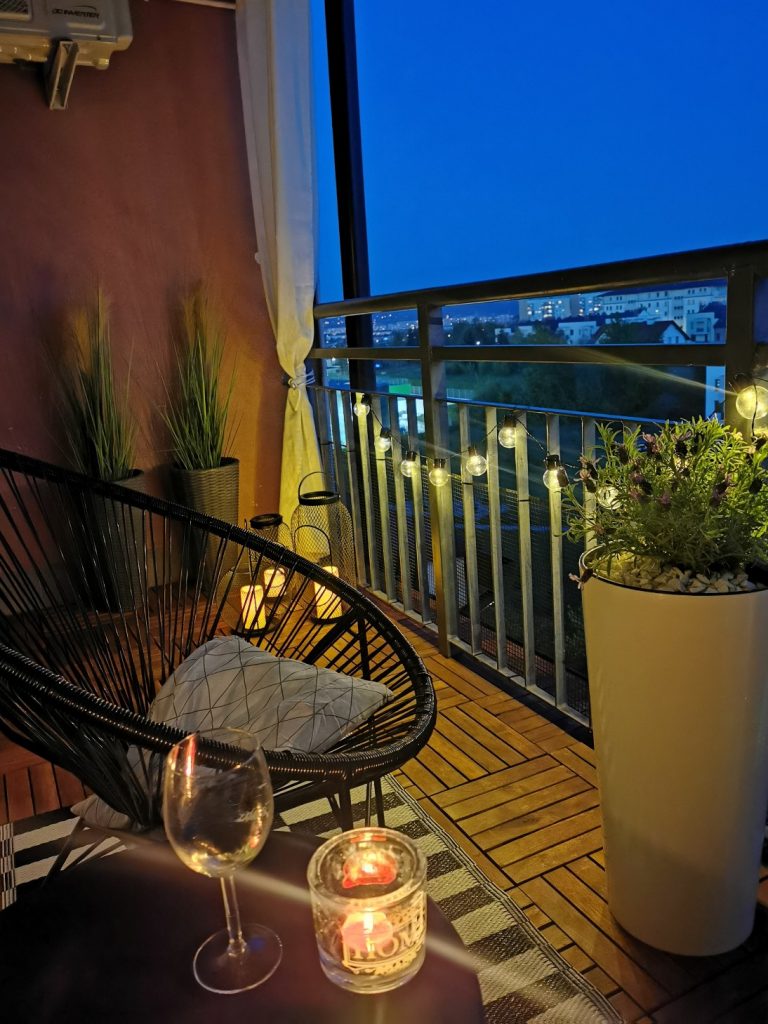 Summary
Arranging a balcony in a block of flats doesn't require large financial outlays but only imagination and a bit of time. The result of our quick metamorphosis was a nice and cozy balcony with a sitting area, where you can find flowers and mood-building details. Creating such a place really doesn't need much. All you need is an idea and a few small details, and thanks to it you will gain an additional room, which when decorated on your own will become your favourite place at home in the summer.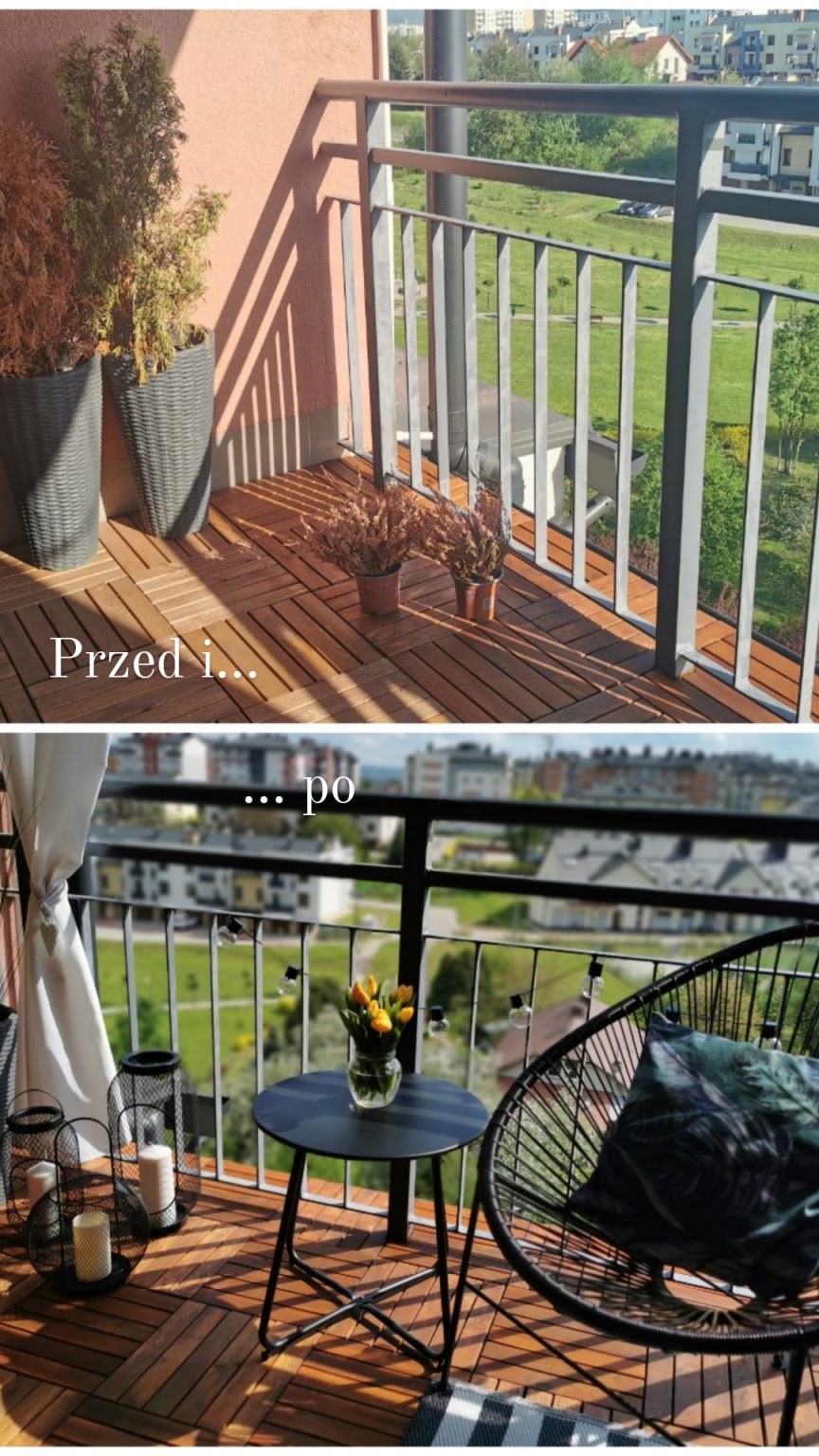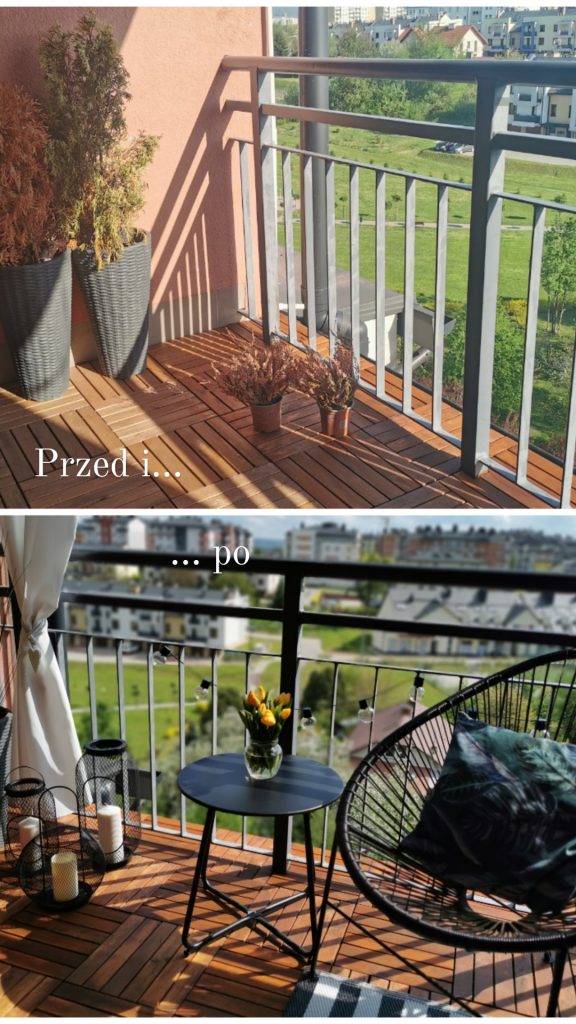 Photos Dorota Prokopiak / own materials