What should be the stairs to a two-level apartment? Many investors wonder about it. Comfortable, safe, durable and most of all aesthetic. What elements are worth paying attention to first of all? Here are some hints which will help to solve these dilemmas.
Stairs to a two-level apartment. Why are they important?
A split-level apartment is a kind of compromise between a typical apartment and a much larger house. Having, for example, a bedroom on the first floor can be very convenient and organize the living space in a quite functional way. However, very often there is less space here than in an average house. So it is important that communication is easy and functional – so it is important that the stairs take up little space, but perform their function well
Functional communication between floors
The choice of stairs for a two-level apartment largely depends on the functionality of the interior. In a situation where there are no children or elderly people living in the premises, and there is a bedroom upstairs used only at night, we can choose a solution that will allow us to maximally save space. We are especially talking about very steep stairs. Perhaps they will be a bit uncomfortable, but we will feel this drawback quite rarely. It is worse, when we have rooms upstairs, which we use very often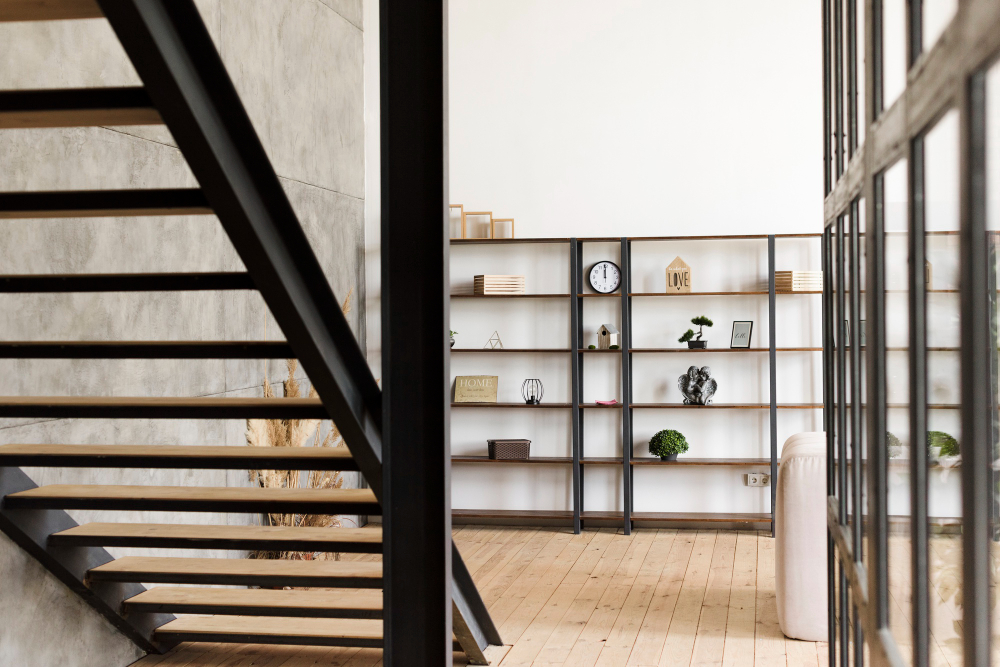 Which interior staircase: ready-made or custom?
One of the first dilemmas will always be: to choose the interior stairs ready-made or custom-made by a carpenter? Of course both options have some advantages, but in case of custom stairs there are simply more good sides to the idea
Ready-made stairs
Most often we'll pay a bit less for ready-made stairs. Products available in the catalog are not likely to surprise us unpleasantly when it comes to design and workmanship. However, the main disadvantage is that we can't adjust the construction to individual conditions that we have in a two-level apartment
Custom-made stairs
Such a variant will fit wonderfully into the interior and allow us to maximize the use of space. We also have a much greater influence on what materials will be used for the development. The same is true of their design. Disadvantages? Most often they include a high cost and often a certain waiting time to receive the product
Types of interior stairs
What specific types of stairs for a two-level apartment do we have to choose from? We're talking primarily about internal structures:
single flight – simple construction with one flight and steps that are always the same length. Recommended especially where there is a lot of space and there is for example a spacious living room;
simple with one flight – in the lower part of the stairs there is a number of steps. They are also used in slightly smaller rooms than single flight stairs. They may be less comfortable, but they look very nice;
two-run stairs with a landing – solution with two flights of stairs separated by a landing is popular especially in houses where the elderly and children live, as they are characterized by high safety level. At the same time they are characterized by high comfort of use, steps of equal length are easier to overcome;
three-runners – a solution that requires a lot of space but is suitable for interiors with high floors. Unfortunately, it is also relatively labor-intensive, which translates into high costs of materials and labor (unless we make them ourselves, which is not easy);
spiral – a very stylish and functional solution that allows to save a lot of space. Unfortunately, they are quite steep, so they are not recommended for very frequent use. Their advantage, however, is the relatively low cost of purchasing the material and ease of installation. You can buy ready-made elements for this purpose;
interval stairs – they take little space and have a very modern form, which will appeal to fans of such interior design (technically they are two-legged stairs with steps in the shape of a wedge instead of a tread);
fan-shaped – centrally located and requiring a large space, they create a very interesting aesthetic impression with fan-shaped steps;
others – sometimes also installed such as modular stairs, miller stairs, duck stairs, rest stairs.
What else should you pay attention to?
It is also important to:
before shopping or ordering stairs from a carpenter, make a project with the most important parameters that must match. It's also worth to take a photo of the place where stairs will be installed;
steps of comfortable stairs should be at least 80 cm – shorter will not be conducive to comfortable use;
the angle of inclination of fairly comfortable stairs is maximum 30 degrees;
it is best if the steps have a rectangular, trapezoidal or semicircular shape.
See also: Types of balustrades for stairs
So what kind of stairs for a two-level apartment is worth choosing? Solutions are different, but the most important thing is to carefully consider the advantages and disadvantages of different models.